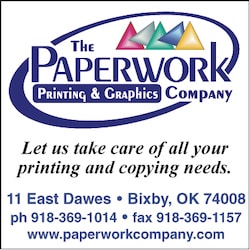 VYPE: What are your goals for yourself and your team this season?
Sarah: My goals for myself and my team are to grow in our friendships and make state before my senior year.
VYPE: What is the most fun you have had in the last year?
Sarah: The most fun that I've experienced in the last year is visiting Branson and enjoying all of the exciting rides at Silver Dollar City.
VYPE: Who is your favorite teacher from any grade or coach and why?
Sarah: My favorite coach is Doug Crowder. He's always pushed me to the best of my abilities and saw in me what I couldn't see in myself.
VYPE: What is your favorite athletic memory?
Sarah: My favorite athletic memory was beating Choctaw during regionals to make it to the tournament.
VYPE: What teammate has left the biggest impression on you and why?
Sarah: The teammate that has made the biggest impression on me is Amelia Stamm. I love her enthusiasm and how pumped she gets before every game.
VYPE: Who on your team has the best impression of your coach and who says the funniest things during games?
Sarah: Alyssa Galliart is a really good leader and helps out a lot of the younger girls who aren't as experienced. There are tons of very funny people on our team but if I had to choose one, I would choose Harlee Ashford. She always finds ways to make everyone laugh and knows how to have a good time.
VYPE: You can pick any place for a summer vacation, where do you go and who do you take with you?
Sarah: If I could pick any place for a summer vacation, I would choose the Bahamas and I would take my sister Shay Barbee.
VYPE: If we gave you $500 dollars and you had to spend it in the next 24 hours, how would you spend it?
Sarah: I would give the $500 dollars to my parents because of all of the money they have put into my softball career.
VYPE: Here is your chance to say hello, goodbye or thank you to anyone you wish.
Sarah: I want to thank God for blessing me with my softball ability. I also would like to thank my parents and all six of my sisters for giving up so much for me and Shay to be as successful as we are today. And lastly, I would like to thank all of my coaches that have pushed me to make me the athlete I am today.